Successful training sessions performed to be prepared for any emergency
Wildfires in the mountains require a fight with joint forces.
On 13.08.2020, about 70 emergency response teams of the local fire brigade and alpine rescue service including GHS flight and ground crew conducted this successful training in Ruhpolding/Chiemgau Alps.
Within this exercise a forest fire has been assumed across the Chiemgau Arena in Ruhpolding/Bavaria, to be stemmed from the ground as well as by air. It has been a main target to train the collaboration between the teams of the fire brigades and the helicopter flight and ground crews. New techniques could be shared as well has valuable experience with the interaction of helicopter and further organizations involved.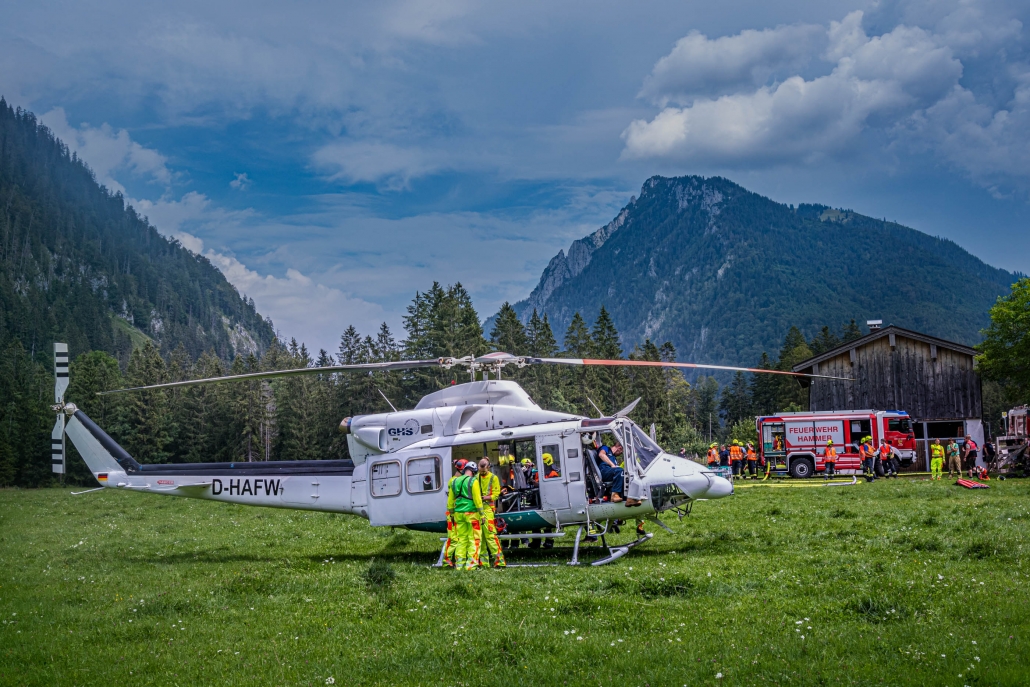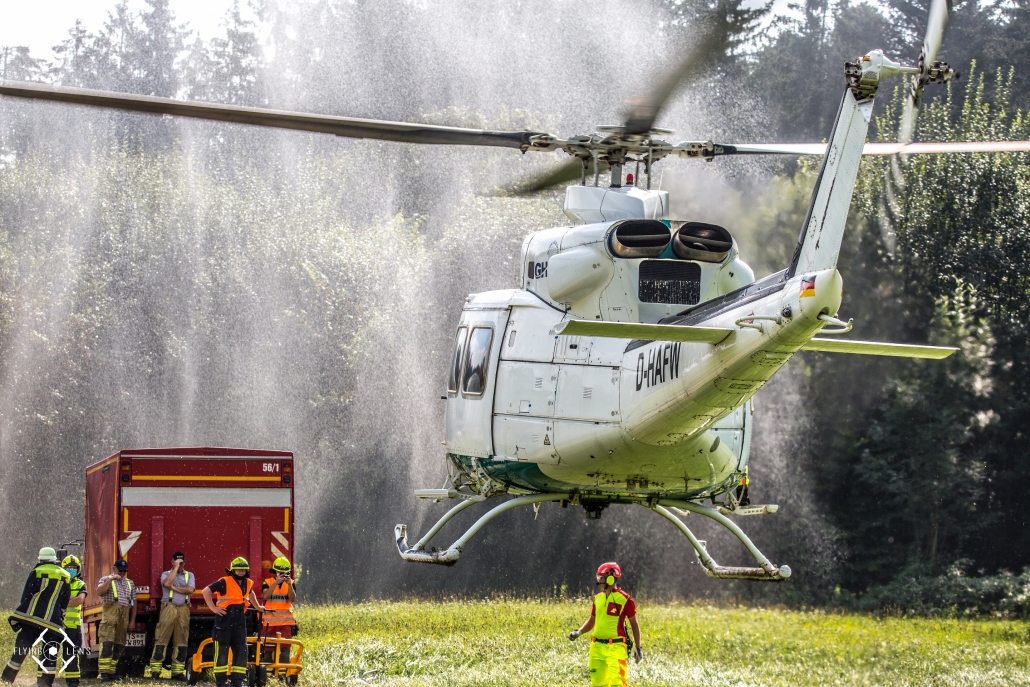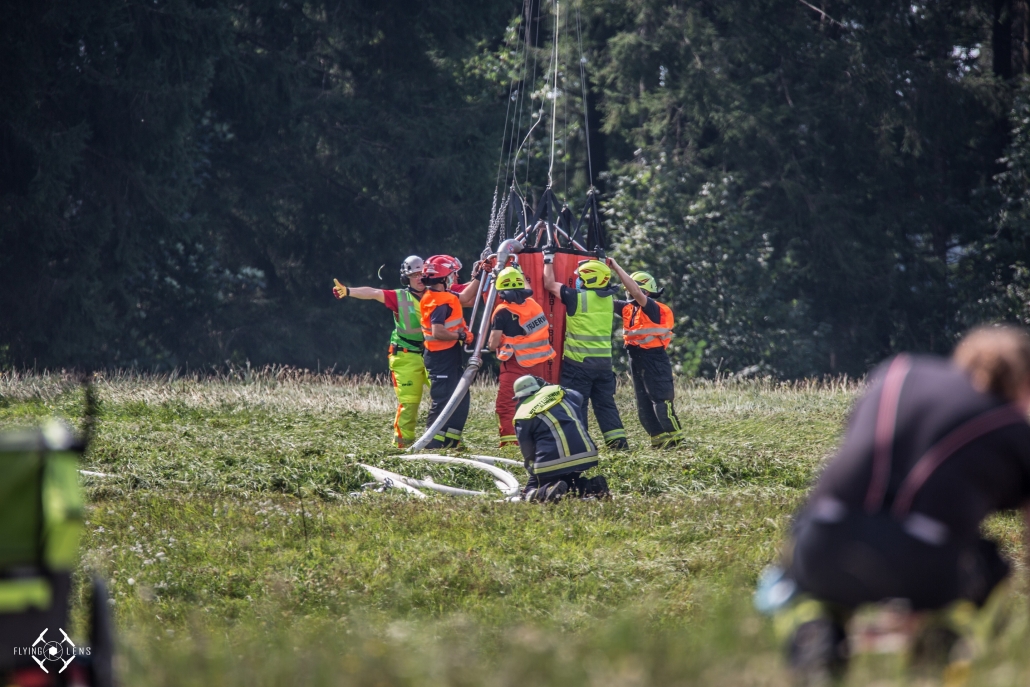 On 12.09.2020, a larger combined disaster response exercise has been carried out at the military training area in Kammer where GHS again supported the Fire Brigades with one of its Bell 412 helicopters as part of the exercise to simulate and train different scenarios.
Both training scenarios did include several flights familiarizing ground personnel and helicopter crew by transporting loads up in the valley and dropping them in impassable terrain uphill as well as water rejection with the Bambi Bucket.
On the second occasion, the Bambi Bucket has as well been used to refill a water basin and 30 firefighters were deployed. With this, we could additionally demonstrate, that with the Bell 412 larger numbers of firefighters can be redeployed to inaccessible areas in the shortest time in order to get them to the places where they are needed most.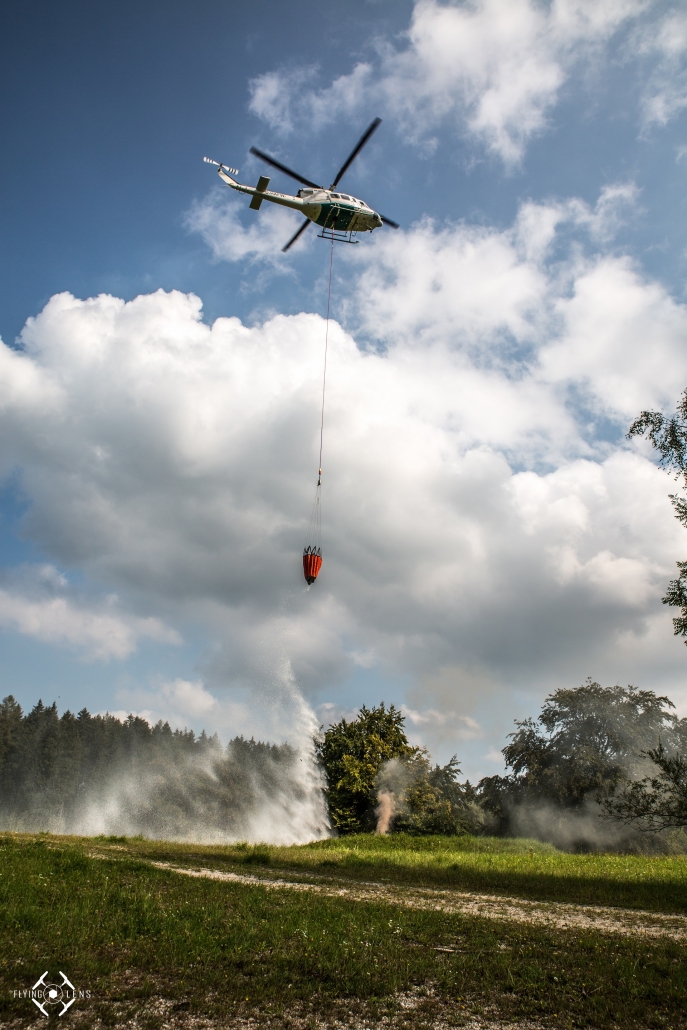 These exercises as well gave GHS good opportunities to test their intern procedures and equipment. Lessons learned will be implemented and our setup proved to be efficient and reliable.
All participants and organisations involved have been very satisfied with the achievements and both sides could gain good knowledge and experience during these trainings.
Our gratitude goes to all parties involved, especially to the Traunstein Fire Brigades who invited us to these events.
It will be our great pleasure to assist the Fire Brigades with any aerial vegetation firefighting or disaster response tasks in case of an emergency – we are ready!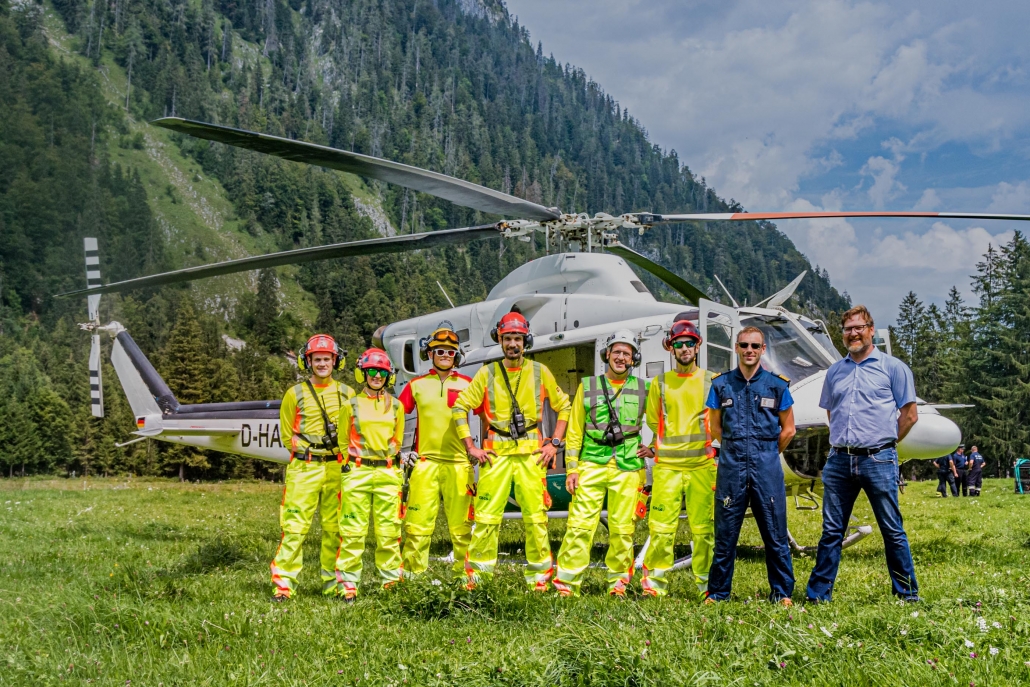 Photos by: flohagena.com/GHS / Max Köbele/5sM/GHS / Flying Lens
Waldbrand Übung in den Chiemgauer Alpen/Traunstein
Erfolgreiche Übungstage um für den Ernstfall gerüstet zu sein
Bei einem Waldbrand in den Bergen sind viele Helfer gefordert.
Am 13.08.2020 fand ein erfolgreiches Training mit ca. 70 Einsatzkräften der lokalen Feuerwehren und der Bergrettung inkl. GHS Piloten und Bodencrews in Ruhpolding/Chiemgauer Alpen statt.
Es wurde ein Waldbrand im Bereich oberhalb der Chiemgau-Arena in Ruhpolding/Bayern angenommen, den es sowohl vom Boden aus als auch mit "Hilfe aus der Luft" einzudämmen galt. Eines der Hauptziele war es die Zusammenarbeit von Feuerwehrfrauen- und männer und der Hubschrauber Cockpit- und bodencrews zu trainieren. So konnten neue Techniken geteilt werden sowie wertvolle Erfahrungen im Zusammenspiel mit dem Hubschrauber sowie den anderen beteiligten Organisationen gesammelt werden.
Am 12.09.2020 fand eine weitere umfangreichere Katastrophenübung am Truppenübungsplatz in Kammer statt, bei der die GHS erneut mit einem Bell 412 Hubschrauber die Feuerwehren unterstützte um diverse Szenarien zu simulieren und zu trainieren.
Bei beiden Trainingseinheiten wurden Einweisungsflüge durchgeführt um das Bodenpersonal und die Hubschrauber Crew miteinander vertraut zu machen, indem Lasten im Tal aufgenommen und im Gelände abgesetzt wurden, sowie der gezielte Wasserabwurf aus dem Außenlastbehälter, dem Bambi Bucket.
Weiters wurde das Bambi Bucket dazu genutzt ein Wasserbecken wieder aufzufüllen und es wurden 30 Einsatzkräfte der Feuerwehren repositioniert. Damit konnten wir zusätzlich demonstrieren, dass mit einer Bell 412 auch eine höhere Anzahl an Einsatzkräften rasch in unwegsames Gelände versetzt werden kann, um die Löschtruppen direkt dort einzusetzen wo sie am nötigsten gebraucht werden.
Diese Übungen gaben uns weiters eine gute Möglichkeit unsere internen Abläufe zu trainieren und unser Equipment zu testen. Gelerntes wird umgesetzt und unser Setup auf Effizienz und Zuverlässigkeit geprüft.
Die Teilnehmer und Organisatoren beider Übungen zeigten sich sehr zufrieden mit dem Ergebnis und beide Seiten konnten wertvolle Erkenntnisse und neue Erfahrungen gewinnen.
Unser Dankeschön geht an alle beteiligten Organisationen, im Speziellen an den Kreisfeuerwehrverband Traunstein, der uns zu den Trainingseinheiten eigeladen hat.
Es ist uns eine Ehre die umliegenden Feuerwehren bei der Bekämpfung von Vegetationsbränden oder Einsätze im Katastrophenschutz zu unterstützen – wir sind bereit!
Fotos von: flohagena.com/GHS / Max Köbele/5sM/GHS / Flying Lens
https://global-helicopter-service.com/wp-content/uploads/2020/09/round-1-good-photo.jpg
1333
2000
Michael Goldfuss
https://global-helicopter-service.com/wp-content/uploads/2018/01/GHS_assets_GHS-Logo.png
Michael Goldfuss
2020-09-23 03:52:38
2020-09-24 04:36:50
Forest fire training in the Chiemgau Alps & Traunstein