Phoebe Chizobam Egu
I'm from a family of 3 that is myself, younger sister and Mom. My parents were divorced and my dad left when we were very young. We grew up with our mom who vowed to do anything to see us become something in life.
I was born in the city of Kaduna and that was where I studied. I always wanted to be in Aviation but because my mom couldn't afford it after my secondary school, I went to Kaduna polytechnic where I studied Mechanical engineering and obtaining my National Diploma, however, I knew I needed to follow my aviation vision.
In 2010 I heard about the Airforce institute of Technology Kaduna being open to civilians and offering the opportunity to study Aircraft engineering. I jumped into the offer in 2011 and was part of only the second set of civilians admitted. I graduated in 2014 with a Higher National Diploma in Aircraft Engineering.
Phoebe has been with GHS for almost 3 years now. She is an integral part of the GHS maintenance department in Maiduguri, Borno State, Nigeria. The mission is high tempo and the working environment is a challenge but Phoebe takes all of this in her stride.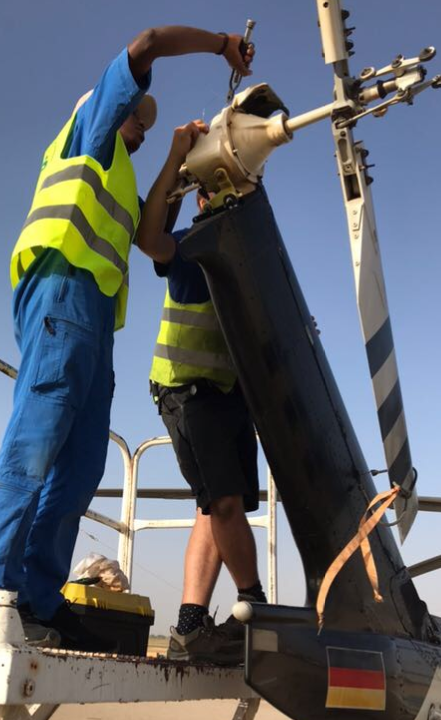 The best thing about working with GHS?
"I like the work that I am doing and the opportunity to advance my training as a helicopter engineer, I have obtained my Nigerian license with the experience I have gained with GHS. I enjoy working with the team of highly professional engineers who are always available to offer me guidance and support and to ensure that I study hard and learn while I am conducting my work.
Been part of the team and representing a small minority of female engineers in Nigeria, makes me feel very proud to work for GHS".
Most memorable GHS workday?
"Apart from arriving into Maiduguri and being given a chance to enjoy working on helicopters, I think that the best day I was involved in was when I was helping to change the Twin pack on one of the helicopters. This is where I gained some very valuable experience and since then I have been involved in various single-engine changes and twin pack changes.
The day I obtained my Nigerian license was a happy day for me and was only made possible through the experience I gained working with GHS Engineers".
What are your future plans and goals?
"My future plans are to complete various type ratings on as many different helicopters as I can, so one day I may obtain an EASA license and to try and evolve my career further afield from Nigeria and travel as a helicopter engineer to other parts of the world.
My first goal has been achieved, I have my Nigerian Licence, my next goal is to work towards an EASA license when I get the opportunity and also progress onto different type ratings".